Russ & Susan Kessler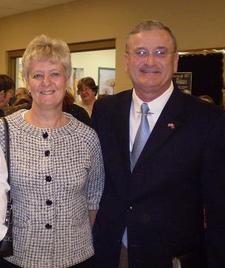 Pastor Russ & Susan Kessler have been married for 41 years and have four children and twelve grand children. Susan is a native of Milford DE and a graduate of Milford High.
Pastor Kessler served 4 1/2 years in the US Marines and also served as a Chaplain in the Mo. and Pa. National Guard. Pastor Kessler received his Pastoral training at Baptist Bible College, Springfield, MO, Heritage Baptist College in Orlando, FL. The Kessler's have started three churches in Vermont, Maryland, Virginia. They assumed the pastorate of a Church in Somerset Pennsylvania. In September, 2001 Pastor Kessler and members his church were able to be involved with the recovery process and the ministering to the recovery workers of United Flight 93 that crashed only 3 ½ miles from his church on 9-11-2001. The American Red Cross, members of FBI and members of the Pennsylvania State Police used the Church
facilities
of the Heritage Baptist as their Main Headquarters.
Pastor Kessler and church members were able to minister on a daily basis to the personnel that worked at the crash site. Pastor Kessler was also able to minister to many VIP's Mrs. Lara Bush, Mrs. Lynn Cheney, Gov. and Mrs. Tom Ridge, Attorney General John Ashcroft, plus other state and local officials.
Presently Pastor Russ and Susan are serving the Victory Baptist Church, Bridgeville DE. You may contact Pastor Russ at 302-222-4596 or e-mail-vovruss@gmail.com
---